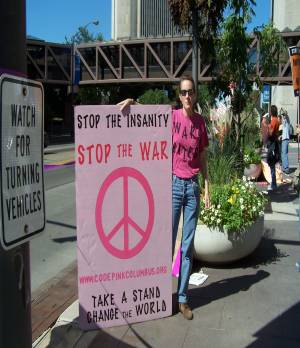 IRAQ WAR MEMORIAL March
&
PEACE FORUM
Wednesday, March 19, 2008
6:00 P.M. - March steps off from
St. John's Evangelical Protestant Church
(59 E. Mound Street, Columbus, Ohio)
6:30 P.M. - A Peace Forum: Imagine...Peace
(at Ohio Statehouse in the Atrium)
Featuring
Networking with Local Organizations on the Peace Movement, Healthcare, Poverty, Jobs and Economic Justice
Numerous speakers, musicians, poets
Find out how the Costs of War stack up against the Dividends of Peace!
*Please bring donations of new clothing items for veterans* and 






non-perishable foods for the homeless.






Join your friends and neighbors at St. Johnís Evangelical Protestant Church, 59 East Mound Street (downtown) for an Interfaith Prayers for Peace Service (4:30 Ė 5:30 PM) sponsored by Faith Communities Uniting for Peace. The march will step off from St. Johnís promptly at 6:00 p.m.
For more information go to: www.columbuspeacenetwork.org