<![if !vml]>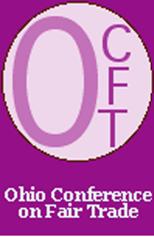 <![endif]><![if !vml]>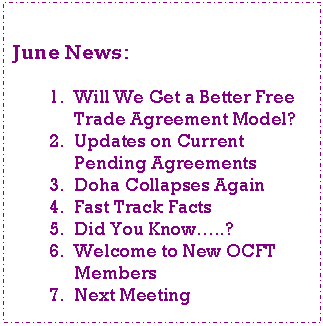 <![endif]>
Working Together for Global Economic Justice
June 27, 2007
1. Will We Get a Better Free Trade Agreement Model?
All Fair Trade Advocates are aware of the "deal" announced by Representatives Rangel and Pelosi and the US Trade Representative on May 10, 2007. This "deal," triumphantly broadcast, claims that labor and environmental standards would now be included within our model of Free Trade Agreements (FTAs). While the exclusion of these standards have been one of the major reasons for opposition to our FTAs since NAFTA, as reported in our May monthly newsletter, major skepticism has been voiced about this "deal" from all sectors that comprise our Fair Trade coalition.
While waiting for the release of the details that would clarify the components of this "deal," OCFT sent letters to Representatives Rangel and Pelosi (with copies to all our fair trade Congresspeople from Ohio). In our letters, we expressed our concern over the introduction of a "deal" that was negotiated in a closed and non-transparent manner without input from those not-for-profit organizations that have most consistently advocated for fairness and justice in labor standards, in environmental protections, and in family farm sustainability and opposed the current free trade model.
We applaud Congresswoman Betty Sutton (D-OH-CD13) whose editorial "We Must Have Fair Trade" was published in The Hill on June 20th. Congresswoman Sutton opposes any additional FTAs until Congress addresses all negative aspects of our current trade model. Sutton says Congress must replace policies that reward outsourcing, support sensible tax policies and discourage currency manipulation, end illegal subsidies and product dumping, address reciprocity of market access and ensure safety of imported products. Sutton points out that these actions are not pro-trade or anti-trade, but rather rules about fairness and enforceability. She also points out that the development of new technology and workforce development does not preclude the need for developing fair and just trade policies. Otherwise, she warns, our workers, farmers and communities "will continue to be undercut and will continue to suffer." (Sutton, Betty, The Hill, June 20, 2007.)
Last week, the much-anticipated details of this "deal" were released to Advisors only. So we still don't understand the full implications of this "deal." OCFT continues to discuss the ramifications of these changes in an effort to come to consensus about how we will react as a state coalition to further FTAs. OCFT welcomes your input to these discussions!
2. Update on Current Pending Agreements
There are 4 Free Trade Agreements pending before Congress under "Fast Track" Trade Promotion Authority rules. These FTAs are: Peru, Panama, Colombia and South Korea. Because these FTAs have already been "introduced," they function under Fast Track, which means no amendments can be made by Congress to change or improve the FTA rules. (See #4 Fast Track Facts below.)
Peru: One of the more contentious components of the Peru FTA is the Investors Rights provision that would allow Citibank Corporation to sue Peru if the Peruvian government stops or reverses their current program to privatize their social security system. Because this FTA is based upon the current models of NAFTA and CAFTA, U.S. corporations can seek compensation from the signatory country if any changes occur that impede their profits. Despite protests from Peruvian labor, faith, social justice and public health organizations, efforts to correct Peru's failing social security privatization policy are being discouraged by the current Administration. Incentives to continue the privatization process are buried in the details of this trade deal. Please join us in opposing this provision of the Peru FTA by signing Public Citizen's petition at: http://www.democracyinaction.org/dia/track.jsp?key=367581547&url_num=4&url=http%3A%2F%2Faction.citizen.org%2Fcampaign.jsp%3Fcampaign_KEY%3D11998 . (http://www.citizen.org/hot_issues/issue.cfm?ID=1644) .
Panama: There has been very little controversy over the Panama FTA, especially if enforceable labor and environmental standards really are included within the core text of the agreement. Nearly half of all Panamanian imports come from the U.S. In 2005, more than 95% of Panama's exports to the U.S. entered duty-free through Preference Programs. It is anticipated that Panama Canal updates over the next few years will cost over $5 billion. The Panama FTA requires that U.S. firms be permitted to participate on a competitive basis for canal goods and services.
Colombia: Labor violence is so prevalent in Colombia that even free trade proponents doubt that this FTA can pass a Congressional vote in its current form. President Bush has "courted" about a dozen pro-trade Democrats recently to emphasize the geo-political importance of passing the Colombia FTA. These Dems have warned the President that this FTA faces considerable opposition in Congress. Labor leaders are pressuring Rep. Pelosi to reject this FTA because of Colombia's poor human rights record and because of widespread murders of trade unionists. (National Journal's CongressDailyAM, June 20, 2007.) As Rep. Betty Sutton states, "the administration's willingness to enter into an FTA with Colombia should tell us all we need to know about any commitment it would have to enforcing labor standards in general." And as Public Citizen and Citizens Trade Campaign points out, there is no way the text of an Agreement will resolve the problems in Colombia.
S. Korea: This FTA is called the most significant FTA since NAFTA. It abounds with problems, however. According to Korean Americans for Fair Trade (KAFT), the Korus FTA contains the following serious problems: (provided by KAFT)
· An undemocratic process was followed to create the agreement, with systematic denial of open access to information about the agreement, and with the extreme reversal of civil liberties in S. Korea in the face of rising public opposition
· It will perpetuate the current trend of replacing high-paying permanent jobs with lower-paid temporary jobs
· It will deepen the current trend of economic inequality
· It will benefit large agribusiness while hurting small family farms in both countries
· It will increase dependence on imported foods (and its accompanying problems with food safety and increased fossil fuel usage)
· It includes the demand by the U.S. for S. Korea to lower gas emission standards to allow U.S. cars to enter the Korean market
· It undermines efforts to provide affordable medicine by including language that forces Korean health authorities to favor brand name drugs; this will threaten S. Korea's ability to provide universal healthcare which is based upon the availability of generic drugs
· It liberalizes S. Korea's tobacco regulations by forcing the reduction of tariffs on imported cigarettes
· It includes a side agreement that exempts processed U.S. foods from being covered by S. Korea's mandatory labeling of genetically modified organisms
· For the first time in any FTA, the Korus agreement declares all contract rights to be property interests subject to investor-state arbitration, radically changing the standard for what constitutes an expropriation.
On the other hand, the U.S.-Korea Business Coalition is pushing for Congressional approval of the FTA. A great deal of liberty was taken in putting together this agreement to beat the deadline of the end of Fast Track Trade Promotion Authority.
3. Doha Collapses Again
The Doha world trade negotiations once again collapsed this month in Potsdam, Germany. The U.S. is blaming India and Brazil for the breakdown of communication. India and Brazil, representatives for the so-called G-20 developing countries, said that they are not the ones who walked out of the talks. This collapse mirrors the abrupt discontinuation of Doha negotiations last July in Geneva. In both cases, discussions were halted by the accusations that the U.S. would not be flexible about the farm subsidies that are paid to U.S. agribusiness corporations which result in over-production and the subsequent flooding of the world commodities market. This subsidy process makes it nearly impossible for developing countries to compete in these markets.
Named after the capitol of Qatar, "Doha" represents a series of discussions on behalf of the WTO (World Trade Organization) to establish the rules of multilateral trade for the world. These negotiations were originally scheduled to be completed in 2006, before the end of President Bush's "Fast Track." (see #4, Fast Track Facts) However, most of the discussions held around the world have been interrupted by protestors and dissenters representing the interests of developing nations.
Many believe that the collapse of these discussions could deal a fatal blow to Doha. USTR Susan Schwab declares that the U.S. will not admit defeat! Schwab also declared that this latest blow to Doha is reinforcement for the administration's case for renewing Fast Track. She claims that the U.S.'s willingness to walk away from a "bad deal" is proof that the administration can be trusted with the authority of Fast Track. (CongressDaily, June 21, 2007.)
4. Fast Track Facts by Maria Wilkinson, President of the OCFT Board of Directors
"Fast Track" or "Presidential Trade Promotion Authority" is a mechanism by which Congress gives the executive branch the right to dictate trade policy and formulate trade agreements.
Under Fast Track: The president and the USTR (United States Trade Representative) have the power to select our trading partner nation(s) and negotiate a trade agreement.

Under Fast Track: The negotiated trade agreement is submitted to Congress for a simple 'yes' or 'no' vote. Discussion time is limited to 60 days. No amendments are permitted.
Under Fast Track: Your representatives in the U.S. House and Senate have virtually no decisive role in establishing trade policy and the contents or language of trade agreements.
Fast Track first was introduced by the Nixon administration in 1974. President Clinton used Fast Track to speed NAFTA (North American Free Trade Agreement) through Congress in 1993. The process was re-christened "Presidential Trade Promotion Authority" by the George W. Bush administration. Through a procedure of misrepresentation of consequences and unconscionable railroading through Congress, the Bush Administration succeeded in having Fast Track renewed in 2001. George W. Bush used it to pass CAFTA (Central America Free Trade Agreement) in 2005, as well as several other less contentious trade deals.
Global trade agreements do not simply regulate the exchange of goods; they increasingly facilitate international corporate investment. Agreements like NAFTA and CAFTA have functioned to increase the power and profits of corporations, to the detriment of workers' livelihood and environmental sustainability. Trade agreements negotiated during the past two decades include control over services (such as provision of natural resources), over laws passed at the local and state levels (such as living wage laws, or environmental protections) and over intellectual property rights (including distribution of generic pharmaceuticals). Simply stated, trade agreements reach into all aspects of our lives and those of the populations of our trading partner nations.
Trade agreements can be written and negotiated to raise living standards for workers and to enforce environmental protections vital to survival of the planet. The evidence is clear that, acting on its own, the administration will continue to craft trade agreements that benefit corporate investors instead.
Why should establishment of international trade require that such exclusive rights be given to the executive branch in the United States? The argument is that the president and his advisors must have absolute power in order to negotiate the agreements. However, as an example, CAFTA was signed by the participatory countries in May of 2004. It wasn't passed by the U.S. Congress until July, 2005; implemented by El Salvador: March, 2006; Honduras and Nicaragua: April, 2006; Guatemala: July, 2006; Dominican Republic: March, 2007. Costa Rica has yet to pass and implement CAFTA. So what's the hurry? If other countries' governing bodies can challenge components of trade agreements, why can't the U.S. Congress?
Fast Track will expire at the end of June, 2007, and Congress again will be asked to authorize the Bush administration to choose our trading partners, negotiate the agreements without transparency, then present them to Congress for an 'up' or 'down' vote. Is it appropriate for any president to request or be granted Fast Track authority? The process constitutes an abrogation of power and responsibility by the people's elected representatives in Congress. Democracy requires checks and balances by the branches of government. Fast Track is not democracy.
ACTION: Please call the office of Senator George Voinovich (202-224-3353 or 614-469-6697) and your Member of the U.S. House (Capitol Hill switchboard: 202-224-3121), no matter what their party, and ask that they oppose the undemocratic process of PRESIDENTIAL TRADE PROMOTION AUTHORITY. Then call the office of Senator Sherrod Brown (202-224-2314) and thank him for his consistent stand in opposition of Fast Track.
5. Did You Know….?
Did You Know….
There is one 5-story building in the Cayman Islands, known as Ugland House, which more than 12,000 U.S. companies call "home!" Earlier this month, Senate Finance Chairman Max Baucus (D-Mont) and ranking member Chuck Grassley (R-Iowa) asked the Government Accountability Office to investigate whether these companies are located in the Caymans for the purpose of tax avoidance.

(

Heflin, Jay, CongressNow, June 6, 2007.

)
Did You Know….
Did You Know….
6. Welcome to New OCFT Members
OCFT welcomes the following new members:
· CWA Local 4320 (Columbus)
· IBEW Local 38 (Cleveland)
· IBEW Local 688 (Mansfield)
· OH AFL-CIO West Central CLC (Lima)
· Sheet Metal Workers Local 33 (Parma)
· USW Amalgamated Local 2737 (Dover)
· USW Local 302L (Wooster)
· USW Local 3057 (Shelby)
OCFT welcomes new Board member Melissa Campbell from USW Local 2737.
We are pleased to announce new Officers on the Board of Directors:
Maria Wilkinson, President
Simone Morgen, Vice-President and Secretary
George Huntley, Treasurer
Welcome to all!
7. Next Meeting
Our next OCFT Board meeting will be Monday, July 23rd, at 12 noon at the AFL-CIO Building at 395 E. Broad St., downtown Columbus. Our meetings are open to everyone. Feel free to bring your lunch!
+=+=+=+=+=+=+=+=+=+=+=+=+=+=+=+=+=+=+=+=+=+=+=+=+=+=+=+=+=+
Want to be added to or removed from the OCFT mail list? Just email Karen at khansen@695online.com.
Karen Hansen
(614) 280-3631
Ohio Conference on Fair Trade
PO Box 06595
Columbus, OH 43206
+=+=+=+=+=+=+=+=+=+=+=+=+=+=+=+=+=+=+=+=+=+=+=+=+=+=+=+=+=+