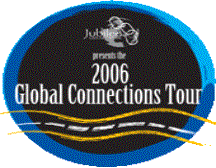 Activist Roundtable Discussion: Drop the Debt, Invest in People!
Join as we discuss the current debt crisis in the South, and actions that came be taken in the efforts to meet the Millennium Development Goals.
Our speakers will be:
Charity Musamba & Rómulo Torres
The 2006 "Drop the Debt, Invest in People! Tour" provides opportunities for local groups to join with international activists from Zambia and Perú to raise awareness of the debt crisis. Jubilee calls for debt cancellation to be conceded to all impoverished countries so that the U.N. Millennium Development Goals can be reached.
When: The meeting with take place on October 31st from 12:00 p.m. - 1:00 p.m.
A boxed lunch will be provided for the first 20 people.
Where: AFL-CIO conference meeting room. 395 E. Broad St., Suite 210
As this time, we are asking that you park at the main library. It is free for the first hour, and fifty cents there after. Closer to the event, parking may be allowed at the funeral home, next door, but please contact Chris Ratleff to verify.
Charity Musamba (Zambia) has served as National Coordinator for the Debt Cancellation and Trade Justice Project of Jubilee Zambia and as Research and Communications Officer for the Jesuit Centre for Theological Reflection in Lusaka, Zambia. She participated in the Zambian government's Civil Society consultation during the Heavily Indebted Poor Countries (HIPC) and Poverty Reduction Strategy processes. She has authored several reports on the connections between debt, trade and privatization. Charity has also presented at many international conferences, including a meeting of debt campaigners from around the world at the 2005 G8 meeting in Scotland.

Rómulo Torres (Perú) has over 25 years of experience in Civil Society Organizations on local, national and international levels. He is Director of the Peru Solidarity Forum and Executive Coordinator of the Latin American Network on Debt and Development (LATINDADD). He has served as Consultant to the Department of Solidarity at the Episcopal Commission for Social Action. Rómulo has participated in numerous civil society dialogues in both Southern and Northern countries, including a panel discussion at the 2005 G8 meetings, and travels frequently to speak about debt and development.

Additional information about the tour, contact: Chris Ratleff, gipbutterfly@yahoo.com, 937.597.0020